Black Elderberry Extract For Optimal Gut Health
Posted by Manuela Boyle on 17 December 2022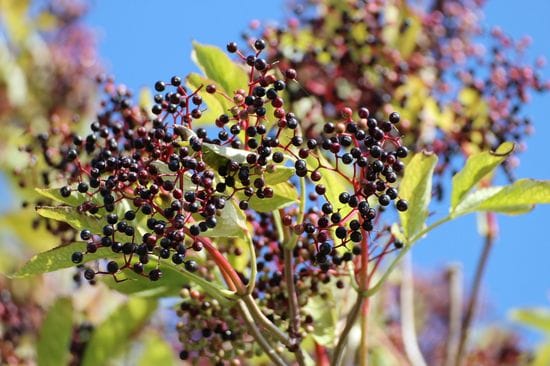 Elderberry is one of the most commonly used medicinal plants in the world. Traditionally, Indigenous people used it to treat fever and rheumatism, while the ancient Egyptians used it to improve their complexions and heal burns.
Elderberry refers to several different varieties of the Sambucus tree, which is a flowering plant belonging to the Adoxaceae family.. The most common type is Sambucus nigra, also known as the European elderberry or black elder. This tree is native to Europe, though it is widely grown in many other parts of the world as well. S. nigra grows up to 30 feet (9 meters) tall and has clusters of small white- or cream-coloured flowers known as elderflowers. The berries are found in small black or blue-black bunches. The berries are quite tart and need to be cooked to be eaten. The flowers have a delicate muscat aroma and can be eaten raw or cooked. Other varieties include the American elder, dwarf elder, blue elderberry, danewort, red-fruited elder, and antelope brush.
Various parts of the elderberry tree have been used throughout history for medicinal and culinary purposes. Historically, the flowers and leaves have been used for pain relief, swelling, inflammation, stimulating the production of urine, and inducing sweating. The bark was used as a diuretic, a laxative, and to induce vomiting.
Elderberry often gets pigeonholed as an "immune herb," but groundbreaking new research in the Journal of Personalized Medicine shows that this polyphenol-rich berry also demonstrates impressive gut and digestive health benefits.
According to researchers, a patented polyphenol-standardised extract made from European Black Elderberry, was shown to have prebiotic properties that support microbiome health. These are the first-ever scientific findings linking black elderberry polyphenols with overall digestive health.
Study Details
The trial was designed to evaluate the effects of elderberry on the human gut microbiota. For the study, 30 participants were given 300 mg of elderberry twice a day for six weeks. At the end of the study, elderberry was shown to induce profound changes in microbial diversity measures (alpha and beta diversity). Additionally, the herbal extract resulted in elevated and lasting levels of Akkermansia muciniphila, a key gut bacterial strain associated with optimal health. No adverse events were reported during the study.
It is becoming increasingly evident that polyphenols have strong prebiotic effects on the human gut microbiota. This is consistent with increased understanding in the immune health space about the important relationship between gut health and immune health. Other studies have illustrated the immune-boosting and direct anti-viral benefits of elderberry. Now, this study provides additional insight about the gut-health angle of elderberry's immune benefits, further demonstrating its unique multifunctionality.
The data also highlight elderberry's new role in the immune-gut connection, in addition to its more typical cold-and-flu-focused options.
One cup (145 grams) of fresh berries contain 106 calories, 26.7 grams of carbs, and less than 1 gram each of fat and protein (3Trusted Source).
High in Nutrients
Elderberries are:
High in vitamin C. There are 52 mg of vitamin C per cup of fruit, which accounts for 57% of the daily value
High in dietary fibre. Elderberries contain 10 grams of fibre per cup of fresh berries, about 36% of the daily value.
A good source of phenolic acids. These compounds are potent antioxidants that can help reduce damage from oxidative stress in the body.
A good source of flavonoids. Elderberry contains the antioxidant flavonoid quercetin, kaempferol, and isorhamnetin. The flowers contain up to 10 times more flavonoids than the berries.
Rich in anthocyanins. These compounds give the fruit its characteristic dark black-purple colour and are a strong antioxidant with anti-inflammatory effects.
The exact nutritional composition of elderberries depends on:
the variety of plant
ripeness of the berries
environmental and climatic conditions
Therefore, servings can vary in their nutrition
Conclusion
The trial provided convincing evidence for the prebiotic properties of a polyphenol-rich black elderberry extract in healthy individuals.