ORGANIC RAW COCAO TORTE
Posted by Manuela Boyle on 19 January 2021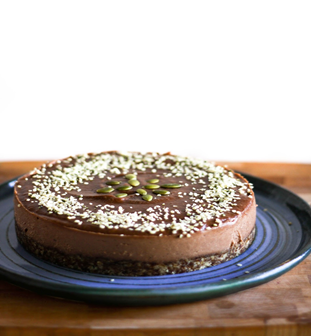 Crust:
1 cup walnut
1 1/2 cups goji berries
Cake:
2 cups cashews
2 tablespoons cacao powder
1 cup water
Juice from 1 lemon
1 cup
2 tablespoons xylitol or stevia
1 teaspoon vanilla extract
To make the crust: place walnuts into a food processor, zap until fine, then add the goji berries and keep processing until it all blended. Press into the bottom of a springform cake pan, or adjustable pan (I used an adjustable pan set to about 18cm or 7 inches). Put in fridge.
To make the cake: blend everything until smooth, thick, and creamy! It should be the consistency of yogurt. Pour onto your crust and let it set overnight or for at least 12 hours (this lets it set and develop flavour). Slice and enjoy! I decorated mine with hemp seeds and pumpkin seeds.