Nourishment for the Pancreatic Cancer Fight
Posted by Manuela Boyle on 3 July 2021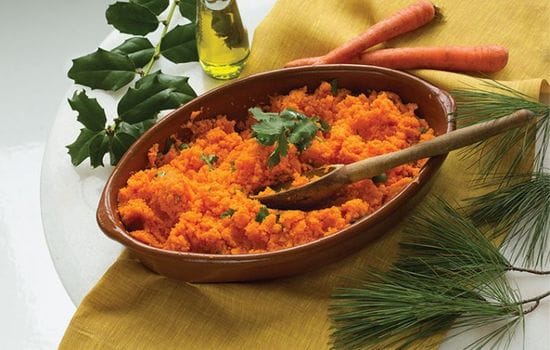 CARROT PURÉE WITH OLIVE OIL AND CILANTRO
This is the perfect dish for patients facing pancreatic cancer, as it is a well-cooked vegetable dish which is easier to digest and less likely to aggravate digestive issues.
The carrots provide an excellent source of beta-carotene. The oil may be reduced if sensitive to fat, or coconut oil may be substituted (which may be more easily absorbed).
If you are sensitive to additional herbed flavors, the cilantro can be reduced or omitted. This purée can also translate well to any other root vegetable or squash such as turnip, parsnip, kent pumpkin or butternut pumpkin.

NUTRITIONAL DATA:
142 calories, 11.7 grams fat, 1.7 grams saturated fat, 0 mg cholesterol, 10 grams carbohydrate, 2.5 grams dietary fiber, 0.8 grams protein
Six servings
INGREDIENTS:
About 10 carrots, peeled and cubed
5 Tbsp. extra virgin olive oil
Sea salt
Fresh black pepper
3 Tbsp. finely chopped fresh cilantro (may substitute other fresh herbs of choice and as tolerated)

DIRECTIONS:
1. In a large pot, boil peeled and cubed carrots for about 20 minutes until they are very tender. (Alternatively, steaming them in a steam pan over boiling water may preservethe maximum amount of nutrients.)
2. In a medium pan, add fresh cilantro leaves and 3 Tbsp. of extra virgin olive oil. Heat on lowest flame for about 5 minutes.
3. Remove from heat and allow to sit for about 5 minutes. Remove cilantro from oil and set aside.
4. In a food processor or using an immersion blender, add in cooked carrots and cilantro oil and 2 Tbsp. of extra virgin olive oil. Purée until smooth.
5. Add sea salt and fresh black pepper to taste and fresh cilantro as a garnish.