Kale Spinach Smoothie
Posted by Geoff Beaty on 3 October 2021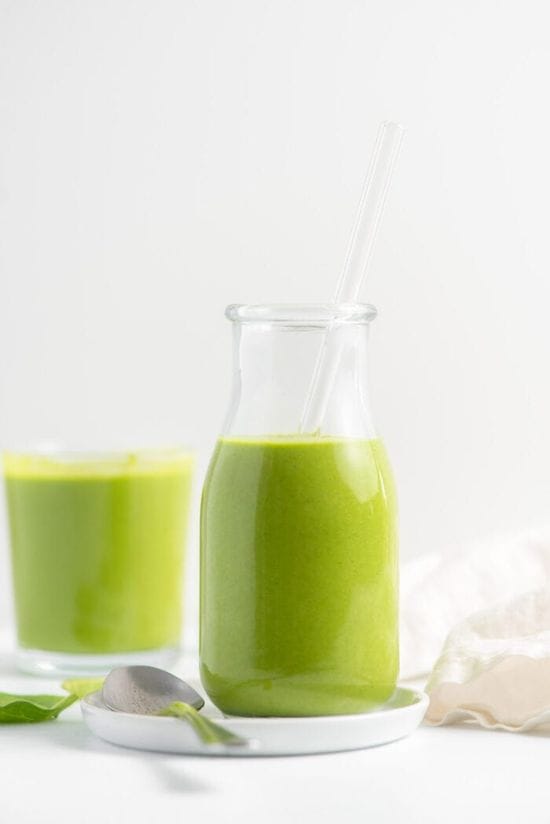 This delicious kale and spinach smoothie tastes amazing and is loaded with nutrition thanks to the mango or pineapple, almond milk, spinach, kale and vegan protein powder.
Enjoy this creamy green smoothie for a healthy breakfast or nutrient-dense snack anytime of day.
FEATURES
dietary: vegan, gluten-free, no added sugar
contains 2 servings of fruits and 2 servings of green vegetables
high in protein and fibre, rich in vitamin C, vitamin A and vitamin K
easy to customise with different ingredients
super easy way to eat more leafy greens
you can add 1/2 cup of blueberries to make it purple!
INGREDIENTS
Protein Powder: Use your choice of vegan vanilla protein powder to sweeten, thicken and boost the protein content.
Mango or Pineapple: Your choice! Both are a great addition and help sweeten the smoothie.
Cinnamon: Also optional but adds a nice flavour.
Almond Butter: I like adding nut butters to smoothies for a bit of fats, creaminess and extra flavour. You can use peanut butter, almond butter, cashew butter, tahini or any other nut or seed butter you enjoy. I like it best with peanut butter!
Almond Milk: Any plant-based milk works or try coconut water as an alternative! If you don't want to use milk, plain water works too.
Kale and Spinach: Use raw kale and spinach (or frozen). Feel free to mix and match the amounts and use all kale or spinach, or swap for other greens like Swiss chard.
SMOOTHIE TIPS
Here are a few tips for smoothie success!
Add the liquid first.
Add the rest of the ingredients.
Start blending on low until it "catches".
Slowly increase speed to high and blend briefly until completely smooth and creamy.
Avoid over-blending or it will start to melt the frozen ingredients.
Quick Tip: If you don't have a high-speed blender, be sure to cut the fruit into smaller pieces and remove the kale leaves from the tough stem for easier blending.