Spinach and Beetroot Pancakes
Posted by Manuela Boyle on 3 May 2021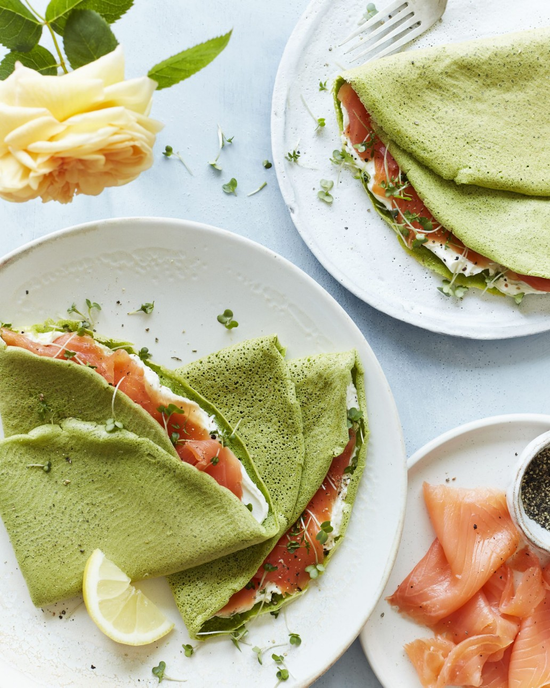 INGREDIENTS

For the spinach pancakes:
3 medium eggs
2 large handfuls of spinach
1 tbsp parsley, chopped
1 tbsp spring onions, chopped (optional)
1 tbsp buckwheat or almond flour
1 tsp olive oil
To serve:
Wild-caught salmon
cress, or micro greens
black pepper
lemon wedges
For the beetroot pancakes:
1 small beetroot, cooked
2 medium eggs
2 tbsp buckwheat or almond flour
1 tsp olive oil
To serve:
Wild caught mackerel
horseradish yoghurt
rocket
STEP-BY-STEP
Add the eggs, spinach, parsley and flour to a blender and blend until smooth.
Heat a large non-stick frying pan over a medium heat, then add the olive oil. Once the oil is hot, carefully wipe the oil around the pan with kitchen towel, you want to remove most of the oil, leaving a very thin, even coating of oil.
Pour the batter into the frying pan, tipping and swirling the pan as you pour to create a thin, even layer.
Cook for 2-3 minutes or until the edges come away from the pan. Use a fish slice to carefully flip the wraps over and cook for a further 2-3 minutes.
To serve, top with the salmon, cress/micro greens, and a generous crack of black pepper. Fold over the wrap and serve with lemon wedges.
To make the beetroot wraps, simply replace the spinach and parsley with a chopped, cooked beetroot and serve topped with the mackerel mixed with horseradish and yogurt and rocket or try sauteed spinach and mushrooms.