A warm soup for lunch. Great for winter. Easy to prepare.
Posted by Manuela Boyle on 22 May 2021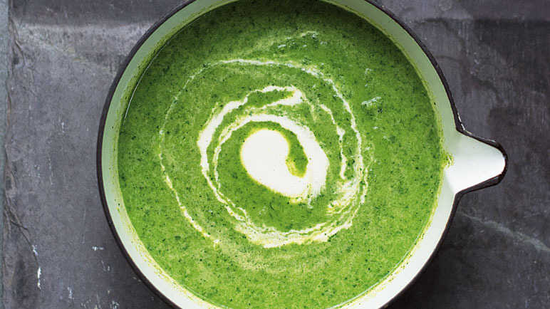 A warm soup for lunch. Great for winter. Easy to prepare.
Broccoli is a powerful nutrient that contains glucosinolates. Spinach is another health promoting nutrient and it contains carotenoids. Both nutrients are better absorbed with fat.
Ingredients:
1 brown onion peeled.
1 tablespoon of chopped or grated fresh ginger.
2 garlic cloves peeled and finely chopped.
1 whole (600 grams) peeled and dices cauliflower.
1 head of broccoli (210 grams) roughly chopped including the stalk.
1 bunch of watercress (185 grams) washed and roughly chopped.
1 bunch spinach (200 grams) washed and roughly chopped.
Plenty of fresh ground black pepper
2 tablespoon of extra virgin olive oil cold pressed
2 cups (1/2 litre) of organic vegetable stock
2 cups of filtered water
1 teaspoon of Himalayan salt (pink salt)
Method
1.Heat a large saucepan, add the olive oil and sauté' the onions, ginger and garlic and cauliflower over medium heat for a few minutes until the onions are translucent and cauliflower is starting to brown.
2.Add the stock, water, salt, and pepper and then bring to the boil. Reduce the heat and simmer for 10 minutes with the lid on.
3.Add broccoli and cook a further 4-5 minutes until tender. Add watercress and spinach, put the lid on and cool only until the leaves wilt. Do no let the coup to cool for too long at this point or you will lose the lovely bright green colour.
4. Transfer to your blander and process until smooth and creamy. You will probably need to do this in 2 batches.
5.Pour into a bowl and garnish with fresh flat leaf parsley. You can add a dollop of coconut yogurt.
Serves 6
Prep time 10 minutes
Cooking time 25 minutes