WHOLE-BODY HYPERTHERMIA
Posted by Manuela Boyle on 8 February 2021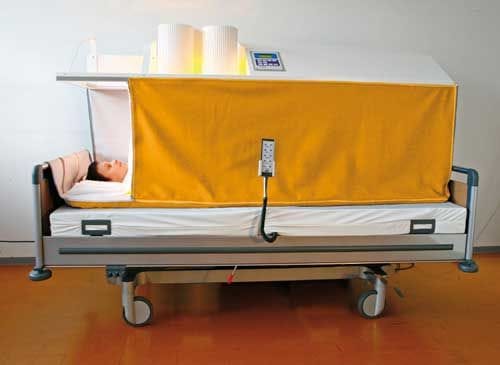 Since 2016 and under the supervision of Dr Karen Coates and Dr Ruth Quinney, both Integrative Medical Doctors, we have been providing excellent options to support our patient's wellbeing. One of our therapies uses a combination of mild whole-body hyperthermia (37C to 38C), red/near infra-red (red light) therapy and Intra-Venous (IV) nutrition can be used to enhance tissue repair, recovery from muscle fatigue, targeting not only skin cells but deeper tissues as well.
We have the newest Heckel HT3000 whole-body hyperthermia which efficiently and safely supplies thermal energy to the body and deeper tissues using infrared-A (IR) radiation. The device is in the form of a tent made of flexible, thermally insulating material with a canopy and frame supporting heat lamps. The tent is placed over the awake patient lying comfortably on the bed during the heating phase, with their head outside the tent. For an hour, heat rays from the lamps penetrate the skin to a depth where the blood can absorb the heat and spread it throughout the tissues and organs.
There is gentle background music to support maximum relaxation.
Once the desired temperature has been reached, the infra-red lamps are switched off, the device raised up and insulating tent walls can be folded down and wrapped around the patient to maintain the elevated core temperature for a further hour or so.
Under medical supervision, there is a continuous monitoring of vital signs, including:
Temperature
Blood pressure
Cardiograph
pO2 (saturation of oxygen in the blood)
Pulse rate