THE BENEFICIAL EFFECTS OF CONSUMING LIGNANS
Posted by Manuela Boyle on 9 May 2021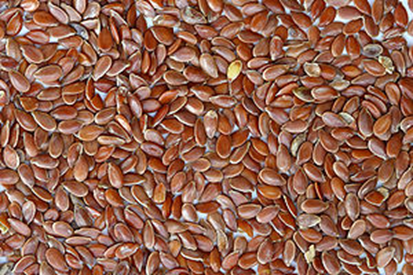 Flaxseed (Linum usitatissimum) is rich in omega-3 fatty acids, -linolenic acid, lignan, and fibres. One of the main components of flaxseed is the lignans, of which 95% are made of the predominant secoisolariciresinol diglucoside (SDG). SDG is converted into enterolactone and enterodiol, both with anti-estrogen activity and structurally like oestrogen; they can bind to cell receptors, decreasing cell growth.
There is growing evidence that an increased intake of flaxseeds and lignans is associated with the reduction of breast cancer risk in post-menopausal women. Research has shown that a daily consumption of 25 grams per day of flaxseed with 50 mg lignans for a period of 32 days reduced tumour growth risk in this population. Other studies have confirmed the reduced risk of breast cancer is associated with higher consumption of dietary lignans.
Lignans modify steroid hormone metabolism, insulin-like growth factor, epidermal growth factor and inhibit aromatase, 17-b hydroxysteroid dehydrogenase and cell proliferation, thereby reducing tumour growth and metastasis. The intestinal microbiota along with lignan phytophenols play a role in the bio-activation of phytoestrogens. These intestinal metabolites have both lipophilic and hydrophilic anti-oxidant activity, bind to and compete with oestradiol at both ERa and ERb. They act as SERMS (Selective Estrogen Receptor Modulators) by modulating 17-b-estradiol activity.
References
Ana Calado, Pedro Miguel Neves,Teresa Santos, Paula Ravasco. The Effect of Flaxseed in Breast Cancer: A Literature Review DOI: 10.3389/fnut.2018.0000. Front Nutr 5, 4 2018 Feb 7 eCollection 2018

BREAST HEALTH LIGNAN RICH SMOOTHIE RECIPE
1-2 scoops protein powder
1 cup unsweetened pomegranate or cranberry juice (phytophenols)
1 cup water, green tea, coconut milk or hemp milk
1 cup organic kale (sulforaphane)
1 teaspoon high lignan flax oil
1 tablespoon high lignan ground flaxseed meal
1/2 teaspoon organic chia seeds
1/2 cup fresh or frozen blackberries, strawberries or blueberries
1/2 tsp ground turmeric (curcumin)