Simple Blender Hummus
Posted by Geoff Beaty on 9 October 2021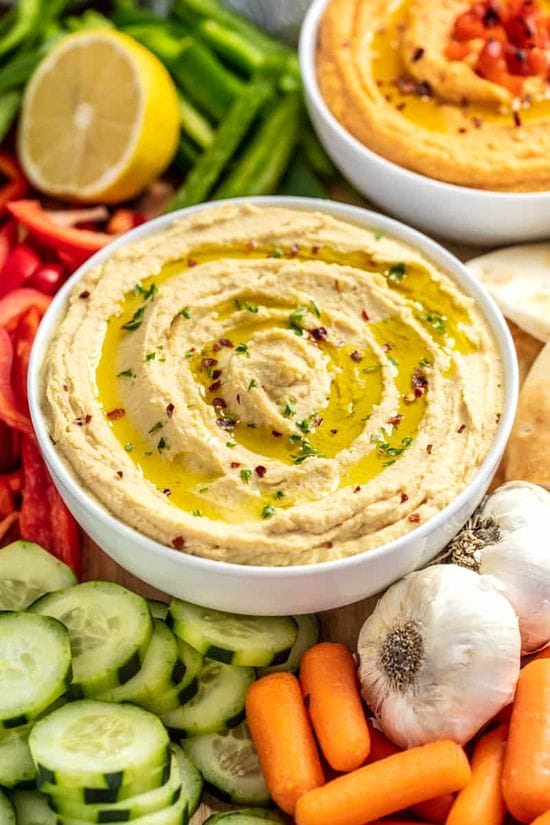 The best part about this easy hummus recipe is that you can make a big batch, and save it for later.
Here are two ideas on how to store hummus:
Refrigerate the hummus for up to seven days. My lunch game has been on the struggle bus, so I just made a batch of this for me to munch on throughout the work week.
Freeze your hummus in small portions. Our Homemade Hummus freezes beautifully! Just be sure to give yourself some time for it to thaw.
Making homemade hummus in the blender (or food processor) is easier than you think. The hummus ingredients come together quickly leaving you with healthier and tastier side dish than you could find at the store.
Ingredients:
1/2 cup tahini
1/3 − 2/3 cup of the liquid drained from the chickpeas (use more or less depending on desired consistency)
juice of 3 lemons (a little less than half a cup)
1/3 cup cold pressed extra virgin olive oil
4 cloves of peeled garlic
1 1/2 teaspoons pink salt
2 teaspoons ground cumin
1/8 teaspoon cayenne pepper, more to top with if desired
optional: black pepper, to taste
2 cans of organic chickpeas drained (make sure to keep the liquid!)
Instructions
Add all ingredients except the chickpeas to a blender*.
Puree until garlic is minced and liquid is combined.
Add half of the beans and blend until smooth. Add last of the beans and blend until smooth. Add more bean water to thin out hummus as needed. You may have to use a spatula to scrap the sides and bottom to make sure all everything is pureed.
Taste and adjust seasoning, as needed.
Store in the fridge for up to a week or freeze for up to three months in an airtight container.
Nutrition facts
Serves: 24
Serving Size: 2 tablespoons
Calories Per Serving: 163
Total Fat 15.4g
Cholesterol 0.4mg
Sodium 201.4mg
Total Carbohydrate 5.5g
Dietary Fibre 1.3g
Sugars 0.1g
6% Protein 2.9g