Lunch: Minestrone Soup
Posted by Manuela Boyle on 7 June 2021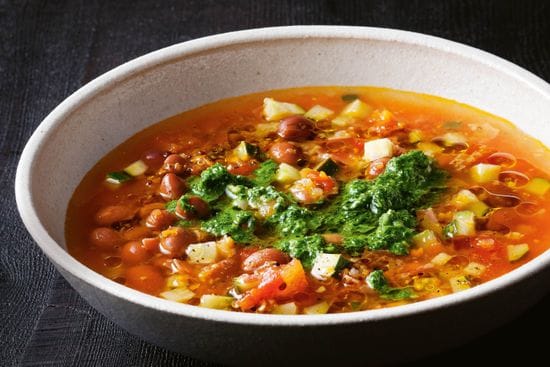 Soups are an excellent way to pack in vegetables and legumes and fill up on healthy nutrients.
Ingredients:

1 medium brown onion
1 small leek, sliced
3 cloves garlic, finely chopped
2 small carrots, diced
2 celery stalks, diced
4 tablespoons extra virgin olive oil
1 cup organic diced tomatoes
2 litres of organic vegetable stock
1 cup red kidney beans
1 zucchini, diced
1 cup kale
100 grams quinoa
Method:

1.Heat a large pot over medium heat. Add in the onion, leek and garlic and saute' in the extra virgin olive oil for 5 minutes until softened.
2.Add in carrots and celery and saute' for another 5 minutes
3.Pour in vegetable stock and tomatoes. Cover and bring to simmer
4.Add in kidney beans and simmer for 20 minutes, covered
5.Bring to the boil and add in quinoa, kale and zucchini. Reduce heat and simmer for 8 minutes uncovered,
6.Serve with crusty Paelo bread and extra virgin olive oil for dipping in
Enjoy!