KRAS Pathway Opens Door for Patients With Difficult-to-Treat Ovarian Cancer
Posted by Manuela Boyle on 9 July 2021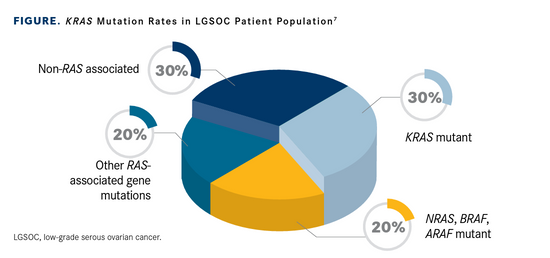 Dual blockade of the RAF/MEK and FAK pathways presents an opportunity for investigators to enhance and expand the number of patients with recurrent low-grade serous ovarian cancer (LGSOC) who can benefit from targeted therapies.
LGSOC, which accounts for between 1.02% and 3.64% of all ovarian carcinomas and 4.66% of serous ovarian carcinomas1, is molecularly unique from high-grade serous ovarian cancer (HGSOC) with approximately 70% of patients harboring a RAS pathway- associated mutation: approximately 30% have KRAS-mutant disease; 20% have NRAS-, BRAF-, or ARAF-mutant disease; and 20% have other RAS-associated gene mutations.
LGSOC is less biologically aggressive compared with HGSOC and has a lower sensitivity to chemotherapy. Treatment options for patients with LGSOC have been limited and recommended first line therapies include platinum chemotherapy combinations or treatment with aromatase inhibitors such as anastrozole or letrozole.4 Options for patients who experience disease recurrence are limited to rechallenge with chemotherapy, or trametinib (Mekinist)or fulvestrant (Faslodex).
Response rates, however, are limited with less than 10% of patients treated with chemotherapy experiencing a response, 14% with letrozole. Despite 25% of patients achieving a response with trametinib, approximately 31% to 35% of patients discontinue treatment with MEK inhibitors because of adverse effects (AEs).3
LGSOC is less aggressive biologically compared with HGSOC and typically presents without p53 mutations or homologous recombination deficiency, Grisham explained. "In patients with HGSOC, these alterations allow for platinum-based chemotherapy and PARP inhibitors to work well," she said.
The dual inhibitory mechanism of action of VS-6766 blocks MEK kinase activity as well as RAF phosphorylation of MEK, which results in the blockade of the RAS pathway, thus limiting compensatory MEK activation.3,5 Further, this allows the agent to more completely inhibit ERK signaling and confers enhanced therapeutic activity; however, following this inhibition there is a compensatory increase in FAK signaling. Investigators hypothesized that adding defactinib would result in more effective inhibition of downstream signaling pathway.5 "By combining a FAK inhibitor with the dual MEK and RAF inhibitor, we hope that these tumor cells will not develop resistance to MEK/RAF inhibitors," Grisham said.
In results from a subgroup of patients with refractory LGSOC (n = 21) from the phase 1 FRAME trial (NCT03875820) the combination elicited an overall response rate (ORR) of 52%. The response was improved among patients with KRAS mutations (n = 10) with an ORR of 70% compared with 44% (n = 4/9) in patients with KRAS wild-type disease.
References:
Gadducci A, Cosio S. Therapeutic approach to low-grade serous ovarian carcinoma: state of art and perspectives of clinical research. Cancers (Basel). 2020;12(5):1336. doi:10.3390/cancers12051336
Banerjee SN, Monk BJ, Van Nieuwenhuysen E, et al. ENGOT-ov60/GOG3052/RAMP 201: a phase 2 study of VS-6766 (dual RAF/MEK inhibitor) alone and in combination with defactinib (FAK inhibitor) in recurrent low-grade serous ovarian cancer (LGSOC). J Clin Oncol. 2021;39(suppl 15):TPS5603. doi:10.1200/JCO.2021.39.15_suppl.TPS5603
Corporate presentation. Verastem Oncology. May 2021. Accessed June 8, 2021. https://investor.verastem.com/static-files/0dec46c2-5d9e-406b-958e-4225eab078c2
NCCN. Clinical Practice Guidelines in Oncology. Ovarian cancer including fallopian tube cancer and primary peritoneal cancer, version 1.2021. Accessed June 8, 2021. https://www.nccn.org/professionals/physician_gls/pdf/ovarian.pdf