Heirloom Tomato, Avocado and Goat Cheese Plate
Posted by Geoff Beaty on 24 April 2022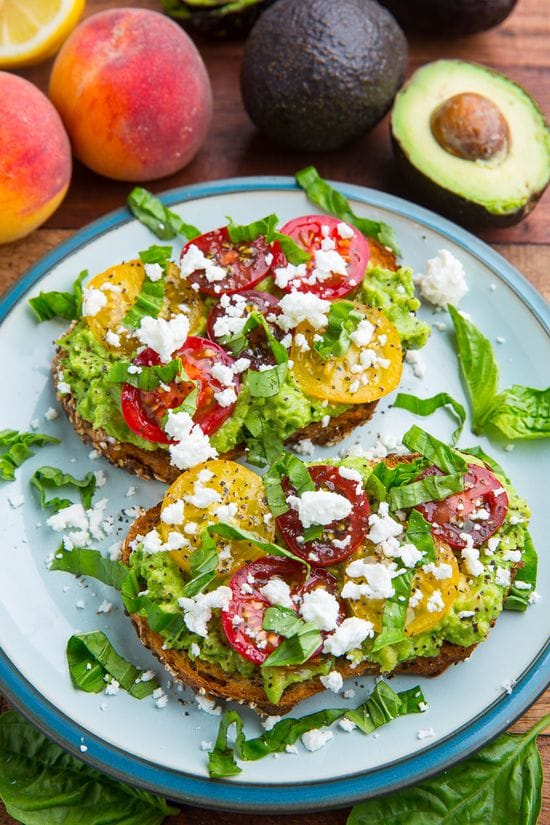 Quick and easy avocado toast with tomatoes, balsamic glaze and crumbled goat cheese!
One of my favourite light summer meals is avocado toast where you take an avocado, mash it, spread it on toast and enjoy! I like to season the mashed avocado with lemon (or lime) juice and salt and a fresh herb such as basil is a nice addition. The mashed avocado is the perfect base to stick other ingredients into and in this case it's fresh sliced tomatoes and creamy goat cheese that are amazing together and with the avocado! Drizzle of balsamic reduction or balsamic glaze finishes everything off perfectly! This tomato and goat cheese avocado toast with balsamic glaze is a great cool and refreshing meal.
Ingredients
8 slices bread, lightly toasted (gluten-free for gluten-free)
2 avocados, mashed
1 tablespoon basil, chopped
1 tablespoon lemon juice
salt to taste
4 medium tomatoes, sliced
fresh cracked black pepper to taste
2 tablespoons balsamic drizzle
1/4 cup goat cheese, crumbled
2 tablespoons basil, sliced
Directions
Spread the mixture of the avocado, basil, lemon juice and salt over the toast, top with the tomato, fresh cracked black pepper, goat cheese, balsamic drizzle and basil and enjoy!
Nutrition Facts: Calories 378, Fat 19g (Saturated 4g, Trans 0), Cholesterol 5mg, Sodium 361mg, Carbs 43g, Protein 11g