Fecal Transplants May Improve Resistance to Melanoma Therapy
Posted by Geoff Beaty on 23 October 2021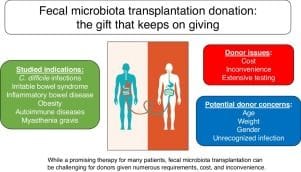 Studies have shown that the gut microbiota could influence the response of melanoma to anti–PD-1 immunotherapy.
It is known that only 30%-40% of melanoma patients respond to anti–PD-1 immunotherapy, so the researchers focused on the gut microbiota of adult male patients.
For the study, which was funded by the National Institutes of Health and published in Science, Professor Zarour and a team of colleagues, including Dr Diwakar Davar, MD, a Medical Oncologist/haematologist at UPMC and Dr Giorgio Trinchieri, MD, head of the cancer immunology section at the National Cancer Institute, enrolled 16 patients with advanced melanoma whose disease had persisted or progressed with anti-PD-1 drugs.
The donors were 7 patients with advanced melanoma who had responded to the drug pembrolizumab: 4 of them had a complete response and 3 had a partial response.
After donors and patients underwent serial stool sampling and studies to stamp out the potential for transmitting infectious agents, the researchers administered the donor-derived fecal microbiota transplant to patients via colonoscopy every 14 days for 3 weeks, followed by pembrolizumab.
To their delight, 6 of the 15 recipients responded to treatment, with a reduction in tumour or long-term disease stabilisation.
Moreover, responders also showed increased activation of CD8+ T cells (good) and decreased frequency of interleukin-8–expressing myeloid cells (bad).
For patients with cancers that do not respond to immunotherapy drugs, adjusting the composition of microorganisms in the intestines—known as the gut microbiome—through the use of fecal transplants may help the response to immunotherapy drugs.
Reference
Chen, D., Wu, J., Jin, D., Wang, B., & Cao, H. (2019). Fecal microbiota transplantation in cancer management: Current status and perspectives. International journal of cancer, 145(8), 2021–2031. https://doi.org/10.1002/ijc.32003