Dietary Fibre and Probiotics Influence Melanoma Immunotherapy Response
Posted by Manuela Boyle on 29 December 2021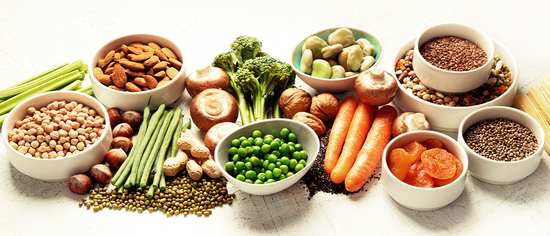 The gut microbiome can modulate the immune system and influence the therapeutic response of cancer patients, yet the mechanisms underlying the effects of microbiota are presently unclear.
Spencer et al. add to our understanding of how dietary habits affect microbiota and clinical outcomes to immunotherapy. In an observational study, the researchers found that melanoma patients reporting high fibre (prebiotic) consumption had a better response to checkpoint inhibitor immunotherapy compared with those patients reporting a low-fibre diet. The most marked benefit was observed for those patients reporting a combination of high fibre consumption and no use of over-the-counter probiotic supplements. These findings provide early insights as to how diet-related factors may influence the immune response.
Looking to add more fibre to your diet?
Here's a look at how much dietary fibre is found in some common foods.
Fruits Serving size Total fibre (grams)*
Raspberries 1 cup 8.0
Pear 1 medium 5.5
Apple, with skin 1 medium 4.5
Banana 1 medium 3.0
Orange 1 medium 3.0
Strawberries 1 cup 3.0
Vegetables Serving size Total fibre (grams)*
Green peas, boiled 1 cup 9.0
Broccoli, boiled 1 cup chopped 5.0
Turnip greens, boiled 1 cup 5.0
Brussels sprouts, boiled 1 cup 4.0
Potato, with skin, baked 1 medium 4.0
Sweet corn, boiled 1 cup 3.5
Cauliflower, raw 1 cup chopped 2.0
Carrot, raw 1 medium 1.5
Grains Serving size Total fibre (grams)*
Spaghetti, whole-wheat, cooked 1 cup 6.0
Barley, pearled, cooked 1 cup 6.0
Bran flakes 3/4 cup 5.5
Quinoa, cooked 1 cup 5.0
Oat bran muffin 1 medium 5.0
Oatmeal, instant, cooked 1 cup 5.0
Popcorn, air-popped 3 cups 3.5
Brown rice, cooked 1 cup 3.5
Bread, whole-wheat 1 slice 2.0
Bread, rye 1 slice 2.0
Legumes, nuts and seeds Serving size Total fibre (grams)*
Split peas, boiled 1 cup 16.0
Lentils, boiled 1 cup 15.5
Black beans, boiled 1 cup 15.0
Baked beans, canned 1 cup 10.0
Almonds 23 nuts 3.5
Pistachios 49 nuts 3.0

Reference
A. Ribas, J. D. Wolchok, Cancer immunotherapy using checkpoint blockade. Science 359, 1350–1355 (2018).