Decline For Some Cancers and Increase For Other Cancers
Posted by Manuela Boyle on 13 November 2021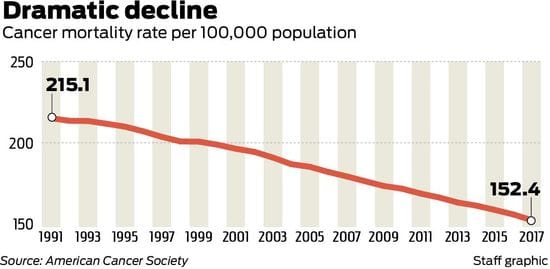 Recent research has shown that mortality from lung cancer was 44% lower in 2019 compared to its peak rate in 1993, whereas it had decreased only 13% from 1993 to the mortality rates in 1971.
Overall, some of the biggest headway since 1971 occurred for stomach and cervical cancers — with 72% and 69% lower mortality rates, respectively — as well as colorectal cancer (56%), oral cavity and pharynx cancer (43%), and ovarian cancer (41%).
Mortality rates of female breast cancer and prostate cancer in men also dropped considerably — both by 39%.
Data suggests that screening likely explains about half of the observed decline in mortality from colorectal cancer between 1975 and 2002.
A 2019 study also found that the use of adjuvant chemotherapy was responsible for 63% of the decline in mortality from female breast cancer between 2000 and 2012.
The decline in lung, oral cavity and bladder cancers largely reflects reductions in smoking because of enhanced public awareness of the health consequences, implementation of increased cigarette excise taxes, and comprehensive smoke-free laws.
However, mortality did increase in a few categories. For instance, the mortality rate from pancreatic cancer increased by 3% between 1971 and 2019, and by 8% for both esophageal and brain cancers.
Mortality rates from cancer were also greater for 29% of the United States counties included in the analysis, mostly those in the south.
The increase in mortality from pancreatic cancer likely reflects the growing rates of obesity along with no real advances in pancreatic cancer prevention, early detection, or treatment.
References
Kratzer TB, Siegel RL, Miller KD, Sung H, Islami F, Jemal A. Progress Against Cancer Mortality 50 Years After Passage of the National Cancer Act. JAMA Oncol. Published online November 11, 2021. doi:10.1001/jamaoncol.2021.5668