Cancer-Fighting Lifestyle Recipe: Tomato-Tofu Stir Fry
Posted by Manuela Boyle on 15 August 2021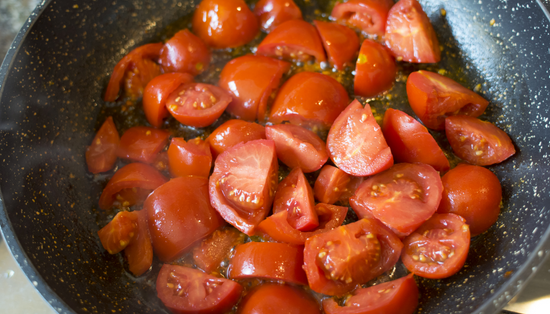 Ingredients:
2 eggs (beat the eggs just before cooking)
2 pieces of Firm Tofu
2 tomatoes
2 tablespoons avocado oil
1 tablespoon soy sauce
Sea salt, black pepper, and coconut sugar to taste
3 clove garlic, some ginger, and 1 green onion
1/2 cup water
Method:
Slice 2 firm tofu into cubes, soak them in warm salt water for 10-15 minutes.
Dice 2 tomatoes into cubes.
Chop 1 green onion, 3 garlic cloves, and some ginger.
Add sea salt, black pepper, soy sauce, and coconut sugar to taste to make the stir-fry sauce.
Beat 2 eggs in a bowl, drain the salted water out of the soaked tofu, coat tofu with egg.
Add oil to the wok, put in the egg-coated tofu once the oil is warm. Lightly pan-fry the tofu on both sides and then put them aside.
Put chopped garlic and ginger in the same wok for pan-frying tofu, quickly stir garlic and ginger for a few seconds, then add in the tomatoes and stir gently.
When the tomato juice comes out, add tofu and the pre-prepared stir-fry sauce. Stir gently to combine all ingredients well.
Cook for 5 minutes to let the tofu soak up the flavors.
Add chopped green onion on top.
Remove everything to a serving plate; the delicious tomato-tofu stir fry is ready to serve!