Brazil-Nut Pesto
Posted by Geoff Beaty on 11 August 2021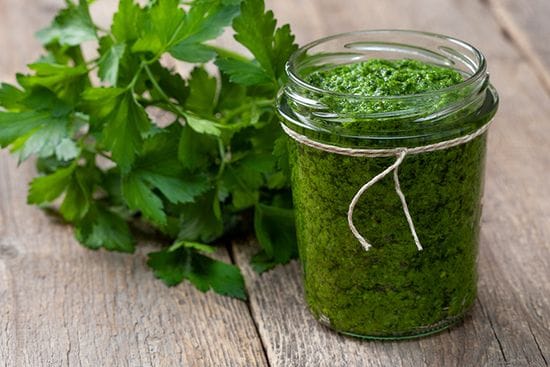 Brazil nuts contain the richest source of natural selenium. They also make a great pesto.
Add a dollop to some roasted broccoli, or wilde salmon and voila! You now have a delicious, nutritious, cancer-fighting meal for dinner tonight.
Try it. And let us know what you think.
Ingredients:
1/2 cup coarsely chopped flat-leaf parsley
1/4 cup Brazil nuts, coarsely chopped
2 Tbsp water
1 Tbsp chopped tarragon
1 large garlic clove, chopped
1/2 tsp finely grated lemon zest
5 Tbsp extra-virgin olive oil
3 Tbsp freshly grated Parmesan cheese
Salt and freshly ground pepper
HOW TO MAKE THIS RECIPE:
In a mini food processor, combine the parsley with the Brazil nuts, water, tarragon, garlic and lemon zest and pulse to a coarse paste.
Add 3 tablespoons of the olive oil and the Parmesan and process to a slightly smooth paste.
Season with salt and pepper.
MAKE AHEAD OF TIME:
This pesto can be refrigerated overnight. Bring to room temperature before using.