Blueberries Improve Cardiometabolic Function
Posted by Geoff Beaty on 2 December 2021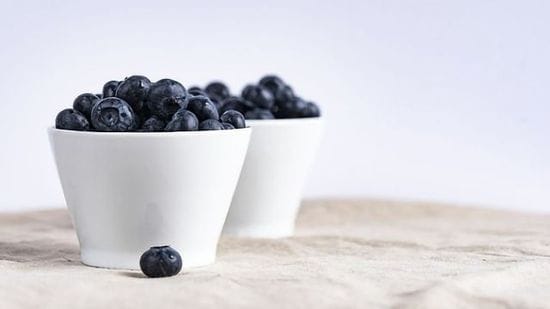 The randomised controlled study included 138 men and women, aged 50-75 years, with BMI≥25 and 3 or more metabolic syndrome (MS) components (impaired fasting glucose, hypertension, central adiposity, hypertriglyceridemia, low HDL).
The researchers randomly divided participants into 3 groups: one group (n=37) consumed the equivalent of 1 cup blueberries per day; a second group (n=39) consumed the equivalent of ½ cup blueberries per day; the third group (n=39) consumed a placebo.
Each intervention was carbohydrate-matched (glucose 31%, fructose 30%, sucrose 0%) and formulated as a milled, freeze-dried powder.
The powder was provided in 26 g single-serve sachets, and participants were instructed to consume 1 sachet per day.
The sachet for group 1 contained 26 g blueberry powder, equivalent to 1 cup blueberries, providing 364 mg anthocyanin and 879 mg phenolics; the sachet for group 2 contained 13 g blueberry powder + 13 g placebo, equivalent to ½ cup blueberries, providing 182 mg anthocyanin and 439 mg phenolics; and the sachet for group 3 contained 26 g placebo (produced by US National Food Lab).
Placebo consisted of dextrose, maltodextrin, and fructose as a purple powder with blueberry aromatics and artificial colour and flavour, and contained no anthocyanins or phenolics.
This is the longest blueberry randomised controlled trial (RCT) to date. It resulted in clinically relevant improvements in endothelial function, systemic arterial stiffness, and HDL-cholesterol, in both statin users and nonusers.
One cup of blueberries contains 364 mg of anthocyanins and 879 mg of phenolics. Blueberries significantly increased HDL-cholesterol and improved vascular endothelial function, arterial stiffness, cGMP, and apoA-I, which could potentially reduce cardiovascular event risk by 11% or more.
Reference
Curtis PJ, van der Velpen V, Berends L, et al. Blueberries improve biomarkers of cardiometabolic function in participants with metabolic syndrome—results from a 6 month, double-blind, randomized controlled trial. Am J Clin Nutr. 2019;109:1535-1545.