Art Therapy Can Help Reduce Physical Pain ans Anxiety
Posted by Manuela Boyle on 2 September 2021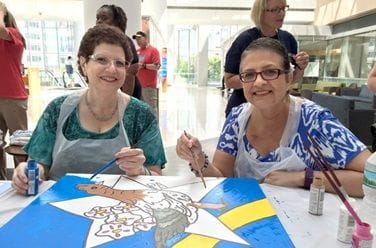 When dealing with the complex emotions that come with a cancer diagnosis, don't underestimate the healing power of art. It can be a constructive way to express yourself, channel your frustration and anger, and calm your mind. There's even a particular type of counselling dedicated to it, simply called Art Therapy.
By using different art processes—drawing, painting and ceramics, for example—you can better understand and dive more deeply into your thoughts and feelings. Sometimes words are limiting, so this is another way to express yourself. You can use colours, lines and symbols to express internal states.
With each art therapy session, you may tackle a different issue. You may be grieving for your former life, your former self, your former body.
Art therapy can decrease stress and increase positive mood.
When you create art, it lowers your cortisol (or stress) level and can actually change the chemicals in your brain. Most people find it has a strong, calming effect.
Art therapy also offers an opportunity to learn new skills, build confidence and explore self-esteem.