9 Things to Pack in Your Chemo Bag
Posted by Geoff Beaty on 14 July 2021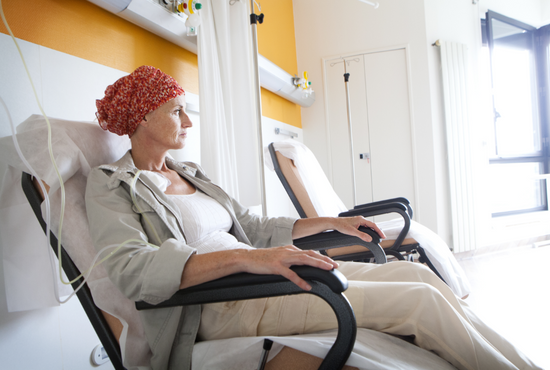 Packing your tote bag for your chemotherapy infusions shouldn't take long, but it's very worth putting some thought and effort into the items you include. The fact is that chemotherapy takes time, and without a little planning ahead you may find yourself either bored, or focusing a bit too much on the toxic drugs entering your bloodstream.
You will likely get to know your chemotherapy nurses quite well, but said nurses also have other patients to tend to and don't usually have time to entertain you during infusions. Taking the time to pack your chemo tote bag full of things to keep yourself both busy and comfortable is sure to make your infusions more pleasant.
Your chemo center may have comfortable recliners, tables for medicines and magazines, and a small TVs.
It will likely be a comfortable setup, but you still may want to bring things to help you pass the time or make you feel even more comfortable.
There are also some essentials to bring for chemotherapy that shouldn't be forgotten, such as your medicare card, recent lab results and medical records, your phone and address book, and most importantly, a friend. Just in case you're thinking of doing chemotherapy alone, the importance of bringing a friend can't be overstated.
Yet there are many nonessential but often priceless items to include. We will look at some of the more important things to pack, and the reasons why.
Scream Cream
If you don't have a chemotherapy port or PICC line and will be having an IV inserted for each infusion, the repeated pokes can be uncomfortable. Many people think that the discomfort of having an IV inserted is minor relative to everything else a person goes through during cancer treatment, but there are a few reason to take notice of these more minor discomforts. One is that things add up, and just as the saying goes about breaking the camel's back, the sting of a needle poke may just be the last straw in your daily coping with cancer.
Talk to your oncologist first, but some people apply lidocaine cream or a lidocaine patch (now available over-the-counter as well as by prescription) to the area where the IV will be inserted. The cream or patch must usually be applied 30 minutes to 45 minutes before the needle insertion to result in significant anesthesia so that you don't feel the needle. That said, the patches can often be left in place for up to 8 hours, so if you talk to your doctor ahead of time, you may even be able to apply them before you leave home.
Applying plastic wrap, medical adhesive tape, or an occlusive bandage to prevent the numbing cream from getting on your clothes may be wise. While these products are available at most infusion centers, it may take busy nurses some time to gather them for you in time, and bringing them with you from home can help you make sure all flows as smoothly as possible.
Beverages and Snacks
As noted, most infusion centers carry a variety of beverages and snacks to help you stay well hydrated and nourished during your chemotherapy session.
There is some evidence that using ginger for chemotherapy-induced nausea may be beneficial, though store-bought ginger ale often contains little if any real ginger and lots of sugar. Bringing your own ginger tea may help reduce nausea in addition to being a pleasant reminder of home.
Movies, Novels, and/or Magazines
Watching movies or TV shows while you're getting your infusion can be very distracting and give you a break from focusing on the needles, tubes, and bags of chemo drugs. Download them ahead of time from Netflix, Amazon, or Google. You also want to remember to bring a set (and two if your friend will be watching) of ear plugs or headphones, so that your videos don't disturb others in the infusion room.
If you've been dying to delve into that new novel by your favorite author, now is a great time. Some people purchase two copies of a book, one for themselves and one for their friend who is joining them, and begin reading the books during the infusion. This has the advantage of launching the two of you on what may include several follow-up discussions after your infusion is done. Or you may wish to bring along those magazines you've been collecting for some quick, easy reading.
Some people prefer to just talk with their friend during the infusion.
Crafts
If you're a craft person, bringing small projects to your chemo infusions can be a great use of your time. Small knitting projects such as hats and scarves or other needlework projects are easy to pack, unpack, and load up again when the infusion is done. Not only can these projects keep nervous hands busy, but they give you something to show for the time you've spent in the chemotherapy chair.
Pen and Paper
Bringing a pen and paper can be beneficial in many ways. Some people use the time to write letters to friends and family. Others use the paper to take notes on what they are reading. Still others use the time for journaling the cancer journey.
Even if you're not a writer, journaling or "expressive writing" can be used to chronicle your journey, clarify your thoughts
Lotions and Lip Balm
Hospitals are often very dry and your skin and lips can become dry even without chemotherapy added to the mix. Packing your favorite lotion and lip balm can help keep your skin soft and moisturized. It may be useful to think of other personal care products in this category when packing your bag. With cancer treatment there's much that's out of our control, but these small measures can not only improve your comfort, but give you a greater sense of control of your body at this time.
Do you want to know more? Ask us